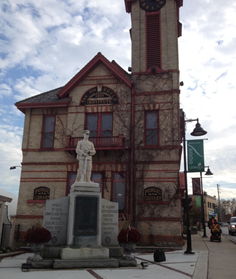 Pest Control Uxbridge
Pest Control Uxbridge. One of the nicest towns in southern Ontario, Uxbridge has become one of the more desirable places to raise a family and remain within reach of the city. The rolling hills, forests and agricultural land provide good habitat for rodents, spiders, carpenter ants and large numbers of cluster flies. The town itself is subject to all the typical urban pests, like cockroaches, bedbugs, mice and ants. Protec Pest Control has technicians that live in the Uxbridge area and have been servicing homes and businesses in the town and surrounding area for over a decade. Call Protec Pest Control today for a free assessment of your pest control needs.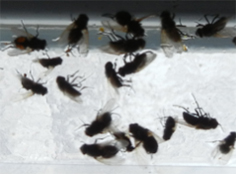 Pest Control Uxbridge – Cluster Flies
Slow, sleepy flies that appear in early spring or that cover the outside of your house in the fall are known as cluster flies. They are common throughout the rural areas surrounding Uxbridge like Goodwood, Coppins Corners and Sandford as well as the many areas surrounded by farmland. While they are a nuisance to deal with, you don't have to live with them. Well timed pest control treatments can minimize the number of flies and provide relief for you and your vacuum. Protec Pest Control has technicians that have been treating cluster fly problems for over 25 years. Call today.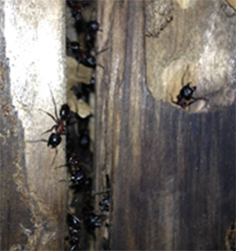 Pest Control Uxbridge – Carpenter Ants
Cany Uxbridge neighbourhood that is over 20 years old or is in the vicinity of mature trees is prone to a carpenter ant infestation. Moisture issues within the home will also contribute to making the structure more appealing to the ants. While they do not eat the wood as a termite will, they are still able to cause significant damage by tunneling out their nest sites in wood structures. Protec Pest Control has technicians that have been solving difficult carpenter ant problems for decades. Your call will go directly to one of these experts.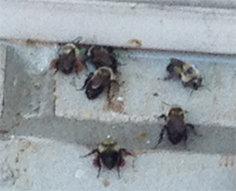 Pest Control Uxbridge – Wasps
As summer temperatures peak, so do the populations of bees, wasps and hornets in and around Uxbridge. They become more aggressive, defending their nests with a painful sting when threatened. They can adapt to nesting in several areas of a home, such as in gaps in the brick, the soffits or behind a light fixture. Protec Pest Control technicians provide safe, fast and guaranteed service to eliminate stinging insect nests.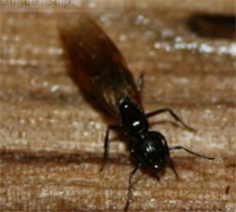 Pest Control Uxbridge – Ants
The most common household insect pest is the ant. All areas of Uxbridge from Goodwood to Zephyr will experience ants on the home or property at some time. The key to control is proper identification of the ant species, to determine the best treatment strategy. There are multiple control methods available to the experienced technicians at Protec Pest Control and all trucks are equipped with exterior application rigs. Call to speak with an ant control expert.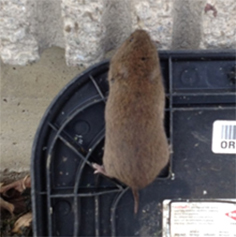 Pest Control Uxbridge – Rodents
Country neighbourhoods, forest and farmland in and around Uxbridge means there are ample amounts of field mice looking to enter your home or business. Mice are not only troubling for the homeowner to see, but their urine and faeces can contaminate surfaces, making them a health risk. Protec Pest Control utilizes the best products and methods to control mice and will aid with sealing of entry points for long term solutions to rodent problems. Speak with a rodent control specialist and get a guaranteed solution.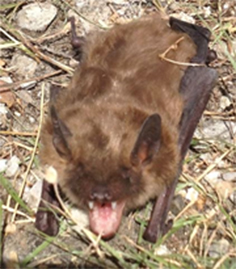 Pest Control Uxbridge – Bats
Bats are not only beneficial, but are also declining in numbers. They are an important part of our ecosystem and should never be exterminated. However, that doesn't mean you have to live with them in your home or business. Protec uses thorough exclusion methods to evict bats from your dwelling, encouraging them to find other roosting sites. Proper timing is essential to the treatment to ensure young bats and nursing females are able to exit the structure and not become trapped inside. Protec Pest Control will inspect and advise you on treatment options and pricing.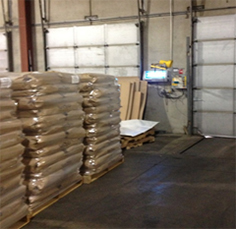 Commercial Pest Control Uxbridge
Protec Pest Control technicians have been providing service to commercial clients in Uxbridge for over twenty years. Whether you run a busy restaurant downtown, manage a farm or run a factory in the area, Protec Pest Control services a neighbour of yours. We offer detailed programs suited to your facility and provide all documentation required by Durham Region Public Health Officials. Call to have a free assessment of your pest control program needs.