FUMIGATION SERVICE
Proec Pest Control is one of the few companies with the expertise and licensing to handle commodity fumigation service. We provide expert advice and service for CFIA inspected, pre-shipment, post-shipment or infestation control fumigations. Our staff includes some of the most experienced and knowledgeable fumigators in Canada.
Fumigation service is a pest control process whereby a pesticide in vapour form (i.e. fumigant) is used to completely fill an enclosed space in order to control a pest. Specific conditions of temperature, pressure and time are required to ensure complete elimination of the pest. Fumigants are a very effective method of insect control as the gas is able to kill all stages of insect development as well as having the ability to penetrate into products and structures. Once insects have infested a product such as timber or flour bags, fumigation is usually the only effective control measure. Fumigation is also used as a preventative control measure to ensure pests are not transported in shipping containers. Due to its gaseous state and high toxicity, fumigants can only be applied by licensed and trained professional fumigators.
The use of fumigants is regulated by the Pest Management Regulatory Agency (PMRA) of Health Canada under the Pest Control Products Act (PCPA). The two fumigants principally used in Ontario are Methyl Bromide and Phosphine. The production and use of Methyl Bromide has been severely restricted by the Montreal Protocol for its role in ozone depletion and now can only be used under specific conditions. Due to safety concerns, Methyl Bromide requires two licensed applicators to be present during the fumigation and air out. While Phosphine is somewhat safer and easier to apply, it is not widely accepted as a suitable alternative to Methyl Bromide.
INFESTATION PEST CONTROL
The fumigation service is an effective part of infestation control in food facilities. Cereals, grains, spices, nuts, seeds, flour, pet foods, rice and pasta can all contain populations of food infesting pests such as beetles, weevils and moths. U.L.V. (fogging) treatments will not penetrate the packaging materials to get to the source of the problem. A multi-faceted approach including fumigation is likely required. Your Protec Pest Control technician can advise you on the best approach. All of our technicians are licensed fumigators and as always, your call goes directly to one of our technicians, and not through a call centre.
PHYTOSANITARY CERTIFICATION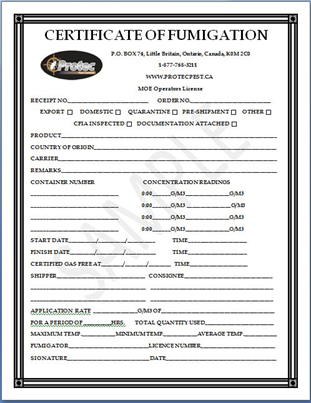 International Standards for Phytosanitary Measures No.15 (ISPM15) is a procedure developed by the International Plant Protection Convention (IPPC) to treat wood products moving between countries. In order to protect indigenous plants and ecosystems, government agencies require wood products to be heat treated or fumigated. Wood products moving between Canada and the United States are exempt from this regulation. However, products such as wood pallets, crates and logs being shipped overseas will have to be treated. In order for the product to be accepted at the port, a Phytosanitarity Certificate, issued by the Canadian Food Inspection Agency (CFIA) and your Protec Pest Control Fumigation Certificate will have to accompany the shipping documents. Failure to have these documents will likely result in a quarantine of your product at its destination. Your Protec Pest Control fumigator will coordinate his timing with the CFIA and can assist you with your documentation concerns.