Carpenter Ants : Truth and Rumour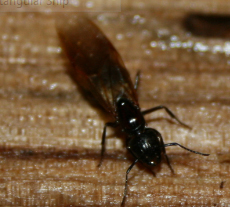 One of the sure signs that spring is about to arrive is the sound of customers calling their Protec technician and asking: Why do I have big black ants in my house when there's still snow on the ground? The answer is not very comforting. You have an active carpenter ant nest somewhere in your home. These large black ants typically become active as spring weather approaches, but can be active as early as January in Southern Ontario. They may even seem to disappear when outside temperatures start to rise, but they'll be back next spring and in even greater numbers. Not to be alarmist; it's a good time to clear up a few misconceptions about carpenter ants.
RUMOUR
Carpenter ants are just like termites. They'll eat the wood structure of your house.
TRUTH
Carpenter Ants are actually quite different from termites. While both have an affinity for wood, termites ARE capable of eating the wood structure of your house. They can digest cellulose and cause severe damage. Fortunately, termites are not widespread in Ontario. In the GTA, they are in mostly in pockets south of the 401 closer to the lake. Carpenter ants do not eat wood. They have a wide ranging diet of both plant and animal material. These ants will typically hollow out wood to build their nest and expel the sawdust, but they do not eat the wood.
RUMOUR
Carpenter ants will cause extensive structural damage to your home.
TRUTH
While carpenter ants can cause structural damage to a home, it would take many years of leaving nest sites untreated to reach this point. The ants typically will become a huge, unsightly nuisance before becoming a serious structural problem. While they are capable of serious damage, most homeowners will have the house treated before it reaches this point.
RUMOUR
Carpenter ants infest wet wood.
TRUTH
While moisture damaged wood is softer and easier for carpenter ants to excavate, they will also attack sound, dry wood. Even wood that is now dry, but has been subjected to a leak in the past is a prime target for these ants. They will also live in Styrofoam, wood trim, insulation and even hollow spaces such as interior doors where they don't have to do any excavation. Areas such as hot tub surrounds, shower stalls and old windows with condensation issues are all locations to look for a nest. While damp or wet wood is a problem in a home for many reasons, don't think these ants won't find comfortable dry spots to nest as well.
RUMOUR
Once you've got carpenter ants, you'll always have carpenter ants. You need ongoing treatments and year round pest control.
TRUTH
Carpenter ant issues CAN be solved. Each colony of ants is unique and some infestations are quite challenging to solve. Treatments vary for each situation and an experienced exterminator is the key to solving the problem. Always get a one year guarantee from your pest control company to protect you from the colony surviving the treatment and reappearing next spring. Also, ensure the exterior is treated as well for added protection. At Protec, all of our technicians have a minimum of ten years experience in solving carpenter ant problems.
See our pest library for more information on carpenter ants or contact us to speak with a technician about your carpenter ant issues.